| | |
| --- | --- |
| Posted by Notion Brook on May 20, 2016 at 3:35 PM | |
- First Time Right ! India is the first country in the world to have succeeded in putting a probe into Mars' orbit in the very first attempt.
- Most Cost effective Mars Mission to have ever been undertaken. The Mangalyaan Mission cost $ 74 million. The Hollywood space adventure movie "Gravity" cost about a $ 100 million to make.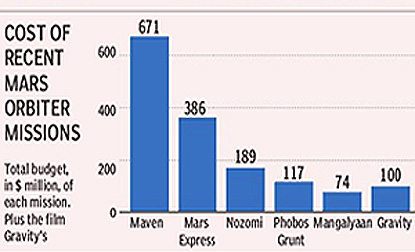 - On an average, every Indian has probably contributed about Rs. 5 per person towards the mission.
- At Rs.450 Crore for 780 Million km, the mission cost about Rs 5.77 per km. That is cheaper than what many auto-rickshaws charge in the country.
- NASA took 5 years to complete its "Maven" Mars Orbiter. The I.S.R.O. took just 15 months to complete Mangalyaan.
- They even managed to make it weigh about 1,350 kilograms. That's less than your average S.U.V.
- Of the 51 Mars missions attempted across the world so far, only 21 have succeeded. India nailed it !
- India joined the U.S, Europe and Russia in an elite group of countries to have successfully undertaken a mission to Mars.
- The success of the mission solidified India's reputation as a competent and low cost base for sophisticated engineering