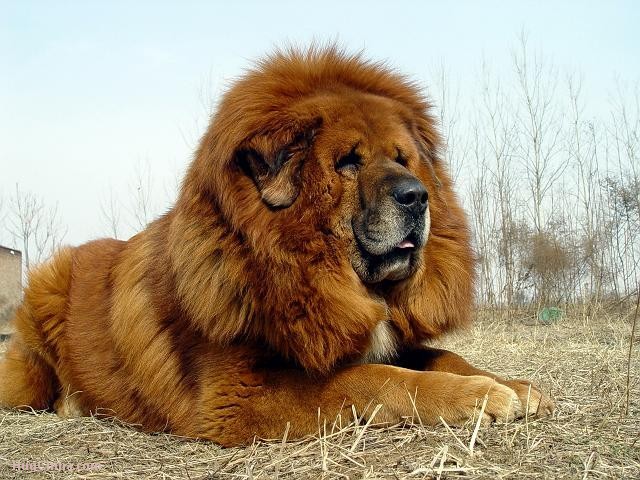 - The Tibetan Mastiff is a type of large Tibetan dog breed (Canis lupus familiaris).Originating with the nomadic cultures of China, India, Mongolia, Nepal and Tibet.
- These dogs are used by local tribes of Himachal Pradesh, India was to protect sheep from wolves, leopards, bears, large mustelids, and tigers.
- Tibetan Mastiffs are shown under one standard in the West, but separated by the Indian breed standard into two varieties
    Lion Head (smaller; exceptionally long hair from forehead to withers, creating a ruff or mane)   
     &
    Tiger Head (larger; shorter hair).
- Many breeders claim a life expectancy of 10–14 years but these claims are unsubstantiated. Some lines do produce long-lived dogs. Males can reach heights up to 83 cm (33"). Dogs bred in the West weigh between 45–72 kg (100-160 pounds).
- In 2008, a mitogenome study concluded that while 12 dog breeds studied appeared to have diverged from the gray wolf 42,000 years ago, the Tibetan Mastiff lineage diverged earlier at 58,000 years ago
- In 1872, one writer has stated "The dogs of Tibet are twice the size of those seen in India, with large heads and hairy bodies. They are powerful animals, and are said to be able to kill a tiger. During the day they are kept chained up, and are let loose at night to guard their masters' house"
- In 2008, the Tibetan Mastiff competed for the first time in the Westminster Kennel Club Dog Show.
- A Tibetan Mastiff is the subject of the 2011 animated film The Tibetan Dog.
- The protectiveness of Tibetan Mastiffs requires alertness and planning by the owner in order to avoid mishaps when the dog is simply performing as a guardian. The breed is not recommended for novice dog owners