- The longest tournament chess game (in terms of moves) ever to be played was Nikolić–Arsović, Belgrade 1989, which lasted for 269 moves and took 20 hours and 15 minutes to complete a drawn game.
- The most commonly held belief is that chess originated in India, where it was called Chaturanga, which appears to have been invented in the 6th century AD. Although this is commonly believed, it is thought that Persians created a more modern version of the game after the Indians.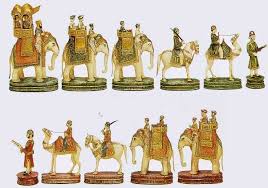 - Paul Morphy (left) dominated all opposition in his brief chess career (1857–58). The first match proclaimed by the players as for the world championship was the match that Wilhelm Steinitz won against Johannes Zukertort in 1886.
- The longest chess game theoretically possible is 5,949 moves.
- The word "Checkmate" in Chess comes from the Persian phrase "Shah Mat," which means"the King is dead."
- Dr. Emanuel Lasker from Germany retained the World Chess Champion title for more time than any other player ever: 26 years and 337 days
- In 1985, the Soviet player Garry Kasparov became the youngest World Chess Champion ever at the age of 22 years and 210 days.

- According to the America's Foundation for Chess, there are 169,518,829,100 ,544,000,000,00 0,000,000 (approximately 1.70x10 29) ways to play the first 10 moves of a game of chess. And they thought a computer would solve chess!
- The new pawn move, where pawns were allowed to advance two squares on its first move instead of one, was first introduced in Spain in 1280.