| | |
| --- | --- |
| Posted by Notion Brook on March 13, 2016 at 11:45 AM | |
Aside from martial arts and philosophy which focus on the physical aspect and self-consciousness for truths and principles, Bruce Lee wrote a lot of poetry, including a lot of it in his book "The Tao of Jeet Kune Do". According to friends he loved the art of poetry and wrote it regularly.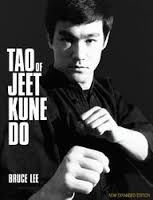 The project for this book began in 1970 when Bruce Lee suffered a back injury during one of his practice sessions. During this time he could not train in martial arts. He was ordered by his doctors to wear a back brace for 6 months in order to recover from his injury. This was a very tiring and dispiriting time for Lee who was always very physically active
"Chinese Gung Fu: The Philosophical Art of Self-Defense" was a 97 page book written by Lee himself and published in an extremely limited edition in 1963.

Source : Google, Wiki